Buddha Backflow Incense Burner
Sale price
Regular price
49.99
29.99
LIMITED TIME OFFER: 50% off & FREE Worldwide Shipping + 15% Off Our Incense cones

This Scented Little Monk Incense Burner is handcrafted. Not only looks fantastic while burning incense and adding a decorative accent to any space, but they will bring you joy for many years.
Benefits:
A decorative accent to any space.
When an incense cone is lit on the burner, trails of smoke mimic water cascading down lotus leaves.
Suitable for any study, bedroom, yoga studio; place them on your desk, shelves or ideally, on an altar stand.
These marvelous ceramic incense burners will provide years of usage and are an easy way to add a beautiful fragrance to your home or office.
Releases your chosen fragrance into the Air.
Relieves Fatigue.
Creates A Pleasant Mood.
Improves Sleep.
Makes an excellent Gift!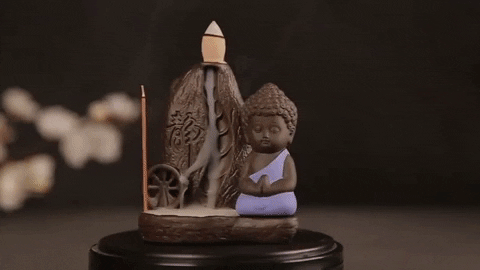 It is most effectively used in a non-windy environment to prevent the smoke from dissipating.
This piece of art has lord Buddha sitting and meditating beside the waterfall.
Simply place an incense cone at the top of the waterfall, and with the cone's special properties, the smoke starts to flow in reverse direction, that is from top to bottom, and in-turn creates a beautiful smokey waterfall.

What does it include?
Your chosen color of Buddha Incense Burner
10 Mixed Incense cones
90 Day Money Back G

uarantee
90 DAY GUARANTEE: 
At Cute Addictions, we provide high quality items so we are not afraid to back them up with our 90 day guarantee. Most online stores only offer a 30 day guarantee. We offer a 90 day guarantee for a
FULL refund or replacement 
to ensure you are 100% satisfied with your purchase!
Feel free to contact us at sales@cuteaddictions.com if you have any questions or concerns.
---
Share this Product
---
Customers who bought this also bought